to start decorating my living room. I was going to wait until it got painted but I've come to the conclusion that will still be a while before it gets done.
Okay, so part of it is the fact that a friend asked me what my style was because I still haven't decorated my house yet. I get the hint. :) (in her defense, she didn't mean it in that way, it just got my wheels turning.)
The first thing I want to tackle is the wall above my couch. I currently have a set of 4 collage style of scrapbooking papers on 24x24" boards. I'm tired of it and want something a bit smaller.
I have 15x15" boards waiting to be used. I have to decide if I want to do a set of three or four. I'm leaning towards a set of three. The hardest part is going to be deciding on which paper to buy.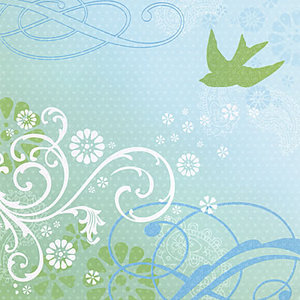 I found this one at
acherryontop.com
Birds and swirls may be "so last year" but I still like them. It would add "movement" to our living room that is full of straight lines.
Another set of papers that caught my eye was this one from
frugalities.com
. I'm not wild about all the prints but love a few of them. Being that my couch is magenta, I'm liking the orange and greens. Framed in black, I think they'd be stunning.
With so many papers to choose from, this may be a long process. Maybe I just need to buy what first catches my eye and be done with it. Paper is such a cheap and easy way to decorate, it will be simple to switch it up when I get sick of it.
What do you think? Have you found any cool papers recently?